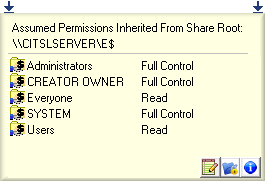 Run by a Domain Administrator, ShareRight's network scanner builds a database containing all known shares, both administrative ($ shares) and network shares and their NTFS permissions. Once complete, the application and database may be used to produce reports of sharing by any user. Unlike tools intended for live use, the data is retained after machines are switched off and a complete picture of your network's shares and VNC servers is instantly available.

Once shared folders have been discovered or manually specified, folders may be specified for document scanning on the next scanner run.

A default VNC password may be set or individually configured for each remote machine, giving convenient one click access to a remote desktop, using heavily encrypted and hidden password storage.

The database may be shared between multiple users for viewing, reporting and VNC access, even if they do not have administration rights on the remote machines. Document security is maintained by normal NTFS permissions, ShareRight users can see that documents exist in folders they do not have access to, but they cannot open those documents.
Installation

---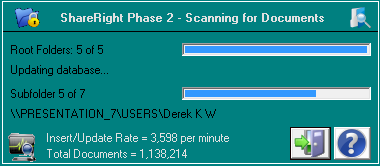 ShareRight Documentary should be first run by a user with administrator access rights on all remote machines. Accept the default settings and ShareRight Documentary is up and running in seconds.

The ShareRight Wizard will guide you through 5 simple steps to configure the settings you need. The scanner will then begin to navigate through all workstations and servers it can see on the network (if set), building the database of shares and VNC Servers. This process with take just a few seconds on a small network, but may take some considerable time if there are thousands of machines.

You can start to use ShareRight immediately, the scanner runs independently and the machine list will gradually fill up as the scanner progresses. Document scanning (if set) begins when all shares have been located, all shares which are enabled in the main window will be scanned for documents matching the parameters set in the wizard.

The scanner may be re-run at any time, but this must only be done by a Domain Administrator. It is a good idea to do this after any changes have been made to the network shares, which will then be reflected in ShareRight's database. If required, the scan process can be run as a scheduled task, which may be set up in the Wizard..